Morseville Route 2 is a state highway that runs for 25.10 miles in Morseville. It connects Sander City, Pacifica, and Morseville City.
Route Description
Edit
In Trois Island County, SR 2 goes concurrent with SR 4 for around a mile. SR 2 heads south on Alexandria Blvd towards I-99 making it go concurrent with SR 3. Then it goes concurrent with US 13. It heads northeast, starting a concurrency with SR 1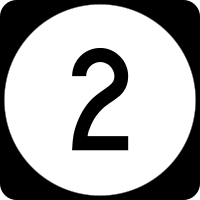 The route continues northeast ending SR 1 at Thessaloncia Blvd in a whalebone junction.
Major Intersections
Edit
The entire route is in Southeastern Morseville. This table is incomplete.
County
Location
mi
km
Destinations
Notes
Western Terminus
Tazewell
SR 8

-Morseville City

Fletcher's Cross Roads
SR 8

-Read's Corner

Lowlands
SR 9
SR 7
SR 43
South Terminus for SR 43
Webster Township
SR 699
Under construction
Webster
SR 4
Western end of SR 4 concurrency.
Martinville
CR 754

- Blue Sulphur Springs, King City

Martinsville-Alexandria City line
Oceanside Parkway
Alexandria
SR 6 (Southwest Blvd)
Eastern Terminus of SR 6
SR 4 (Southwest Blvd)

- Sander City

SR 3 (Alexandria Blvd)

Eastern end of SR 4 concurrency. Northern end of SR 3 concurrency
Sander City
US 13
Northern end of US 13 concurrency.
Interstate 99, SR 1, US 13, SR 3
Southern end of US 13, MV 1 & MV 3 concurrencies.
SR 710

(Mecklenburg Turnpike/50th Street) - Blue Valley, Tazewell Courthouse

SR 710 East Terminus
SR 1 (Star Tannery Road)
Eastern Terminus