Interstate 799 was a new interstate that is only in Trois Island County. It's now replaced by Interstate 99.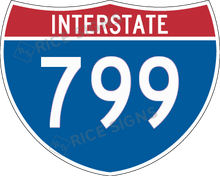 Route Description
Edit
I-799 begins at the Interstate 99 & Interstate 10, it heads straight north and ends at Sander Beach Access Road.
Major Intersections
Edit
The entire route is in Sander City.
Mi
Km
Exit
Destinations
Notes
0
0
0A-B
Interstate 99, Interstate 10, SR 4

– ABRio, Plainfield, al-Wadi al-Jamil

Incomplete Interchange
0.9
1.448
1
Interstate 199
This part fo I-199 replaced by SR 699, interchange never opened
1
1.60
Sander Beach Access Road